SPECIAL FEATURES
Tia Carrere
Margaret Cho
Church of Rhythm
Hiroshima
James Hong
Bruce Lee
Jet Li
Keye Luke
Martial Law
Minoru Miki
Lea Salonga
George Takei
Tamilyn Tomita
Ming-Na Wen
Anna May Wong
Russell Wong
HOME

SECTIONS
Actors
Actresses
Astronauts
Athletics
Authors
Business People
Cartoonists
Community Leaders
Dancers
Directors
Fashion Designers
Film Festivals
Military
Musicians
Newscasters
Politicians
Television Shows














SPECIAL FEATURES
Tia Carrere
Margaret Cho
Church of Rhythm
Hiroshima
James Hong
Bruce Lee
Jet Li
Keye Luke
Martial Law
Minoru Miki
Lea Salonga
George Takei
Tamilyn Tomita
Ming-Na Wen
Anna May Wong
Russell Wong
HOME


SECTIONS

Featured Actors
Featured Actresses
Featured Directors
Featured Musicians
Book Authors
Cartoonists
Fashion Designers
Astronauts
Military Personnel
Newscasters
Politicians
Business People
Community Leaders
Athletics
Television Shows
Film Festivals








BRUCE LEE
A Legend that Never Dies!


1st Asian American Super Star!





BRUCE LEE- The man, the myth and the legend? It is an incontestable fact that Bruce Lee was a great martial artist. His on and off screen persona oozed with charismatic flair making him one of the most popular action hero's of his time. In death, his popularity seemed only to grow as legends. Bruce trained hard and had objectives for himself. In a letter he wrote, he pledged in 1969 to become the highest paid Asian actor, to become well-known and financially independant by 1980 and to achieve inner harmony and peace. Bruce had goals and ambitions that drove him to levels of physical agility, strength and flexibility that none have been able to compare to as of yet.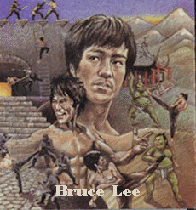 Bruce started his carreer as an actor on the defunk series 'The Green Hornet'. As many of you probably know or have guessed, the character of 'Kato', played by Bruce Lee, stole the show. When the show was later cancelled due to a lack of ratings, Bruce moved on to other things. In fact, Bruce helped formulate and develop the popular 'Kung Fu' series. A series that was, as some have said, made for Bruce; yet, David Caradine, a caucasian actor, played the role of the oriental Kung Fu master. Did Bruce let network and Hollywood prejudice get in the way of furthering his carreer?
Bruce was affected by Hollywood's and American television's lack of respect for Asian actors. He felt that if he remained in the U.S.A., directors and produces wouldn't look on him as a martial artist or an actor; they would rather see an Asian and be blinded by prejudice. Bruce took a sabbatical and went to Hong Kong where he received a hero's welcome. 'The Green Hornet' known as the 'Kato show' in Hong Kong was very popular because of Lee. His popularity got him the attention of prominent movie producers who begged Bruce to star in their features which he did. From then on the world was introduced to 'The Big Boss a.k.a Fists of Fury', 'The Chinese Connection', 'The Way of the Dragon', and 'Game of Death' which was never completed by Lee.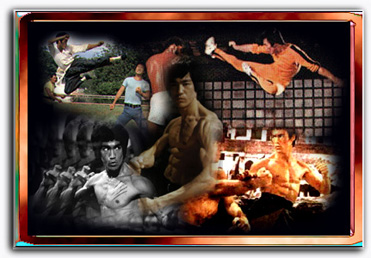 Finally receiving the attention he deserved, Bruce was invited to star in the Warner Brothers production entitled 'Enter the Dragon' which brought him the super stardom he never had the chance to experience. Bruce Lee's death in 1973 is shrouded in mystery...many theories have been put forward ranging from Ninja Assassins to the Chinese mafia. The official report claims that Bruce took a pain killer containing an ingredient he was allergic to. But actually no one really knows how he died. It's ironic that the country that had originally rejected him now mourned him. But that is sometimes the way of life. We never realize the treasures that some individuals offer us until it is too late.
The official cause of Lee's death was recorded in the autopsy report as cerebral edema, or brain swelling. This was supposedly due to his hypersensitivity to a painkiller called equigesic that he had taken that day. But further research suggests the kung fu idol may have died from an epileptic condition first recognized more than 20 years after his death.
Lee died of a condition called sudden unexpected death in epilepsy, which was only recognized in 1995. The condition involves a seizure which stops the heart or lungs. It kills around 500 people a year in Britain, is most common in men aged 20 to 40 and can be brought on by lack of sleep and stress. At the time of his death, Bruce was under a great deal of physical and mental distress.
For more info, click HERE.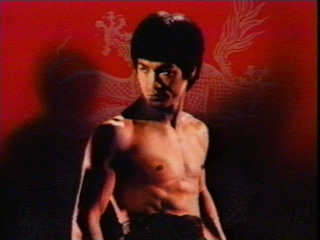 Why Bruce Lee is the Best!
SPEED: Bruce Lee realized that big muscular builds slow you down. He trained for speed. His speed was definitely beyond average.
TIMING: Bruce had timing. He would observe his opponent and counter-attack at the precise moment. Again, speed allowed him to come in and out.
POWER: Two Fingered One Armed Push-ups. He did those with great ease. Two inch punches capable of doing more damage than regular punches. Bruce had the power to bring down any opponent.
FEINT: Bruce Lee believed that if two opponents were equal in skill, speed and power, the competitor who could use feinting techniques would be the clear victor. Bruce Lee accentuated the use of feinting in his movies and in real life.
MOVEMENT: There is never any wasted movement in Lee's techniques. This makes him a force to be reckoned with.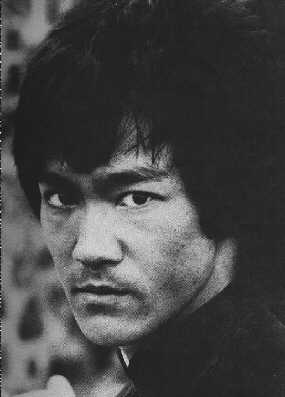 SHUFFLING: Bruce Lee moved like a butterfly and stung like a bee. He believed that the best way to avoid a punch or kick was to simply dodge or move out of the way.

FOCUS: Bruce had the desire to be the best at all cost. He trained every day for several hours. He pushed and unfortunately even abused his body to its limits.

DIVERSITY: Bruce did not dwell in one martial art or in one field of expertise. He read and tried to gain knowledge about anything that could make him a better individual and martial artist. He read about boxing, fencing and several other techniques and methods used in the martial arts.

TWO MINUTES: Bruce Lee believed that if a fight lasted more than two minutes, you were finished. That's why his real life fights lasted less than that.
1940 - November 27 - San Francisco: The Year of the Dragon, Lee Jun Fan is born at the Jackson Street Hospital in the Chinatown section of San Francisco. Later to be known as Bruce Lee. His father, Lee Hoi Chuen, a performer with the Cantonese Opera Company, was touring in America at the time.
1941 - Hong Kong: Bruce and his parents return to Kowloon, their family home.
1946 - Hong Kong: At the age of six, he makes his professional screen debut in The Beginning of a Boy. During the later years of his chilhood, Bruce appears in 20 more films in Southeast Asia. Lastly, being the film The Orphan at age 18.
1953 - Hong Kong: After being involved in numerous street fights in Hong Kong, Bruce begins training under Sifu Yip Man, a master of the wing chun system of gung fu.
1958 - Hong Kong: Being an expert dancer, Bruce wins the Crown Colony Cha-Cha Championship.
1959 - Hong Kong: After more fierce street fighting ending in police involvement, Mr. and Mrs. Lee decide that Bruce should exercise his American citizenship and return to San Francisco.
1959 - San Francisco - Seattle: Bruce arrives in the U.S. and stays with an old friend of his father's. He works odd jobs around the various chinese communities. Later moves to Seattle to work for Ruby Chow, another friend of his father's. He lives in a room above her restaurant while working as a waiter downstairs. Eventually enrolls at Edison Technical School and earns his high school diploma. Starts teaching gung fu in backyards and city parks.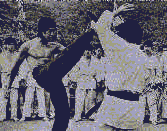 1961 - Spring - Seattle: Enrolls at the University of Washington. Major - Philosophy. Teachs gung fu to students at school.
1963 - Summer - Hong Kong: Returns to Hong Kong for the first time since his arrival in the U.S. Returns to Seattle at the end of summer to continue school.
1963 - October 25 - Seattle: Bruce takes out Linda Emery (the future Mrs. Linda Lee) for their first date. Dinner at the Space Needle.
1963 - Fall - Seattle: Moves the Jun Fan Gung Fu Institute into a building (4750 University Way) near the university campus.
1964 - Summer - Oakland: Bruce leaves Seattle to start a second school in Oakland. His good friend, Taky Kimura, takes over as head instructor.
1964 - August 17 - Seattle: Bruce returns to Seattle to marry Linda Emery. Residing afterwards back in Oakland. 1964 - Oakland: Several months after he begins teaching, he is challenged by a leading gung fu practitioner in the Chinatown community. If Bruce lost the challenge, he was either to close his school or stop teaching Caucasians. At that time, the Chinese were reluctant to teach Caucasians their martial arts. Bruce accepts and dispatches his opponent in only a couple of minutes. Later he is bothered on why the fight took so long and begins to re-evaluate his style. Thus, the early concepts of Jeet Kune Do, Bruce Lee's own style, are born.


1964 - August 2 - Long Beach, CA: Ed Parker, known as the Father of American Karate (Kenpo), invites Bruce to give a demonstration at his first International Karate Championships. In the audience is Jay Sebring, the hair stylist for Batman producer William Dozier who is looking to cast a part in a TV series he was developing. Sebring then gives a film of Bruce's demo to Dozier who is empressed at what he sees. Bruce later flys down to Los Angeles for a screen test.
1965 - February 1 - Oakland, CA: Brandon Bruce Lee is born.
1965 - February 8 - Hong Kong: Bruce's father passes away.
1966 - Los Angeles: Bruce and family move to Los Angeles where he begins working on a new TV series called The Green Hornet as Kato. Later opens third branch of the Jun Fan Gung Fu Institute in Los Angeles' Chinatown.
1967-1971 - Hollywood: During this time, Bruce lands bit parts in various films and T.V. series (Marlowe, Longstreet). He also gives private lessons for up to $250 an hour to the likes of Steve McQueen, James Coburn, James Garner, Lee Marvin, Roman Polanski, and Kareem Abdul Jabbar.
1969 - April 19 - Santa Monica, CA: Daughter Shannon Lee is born.
1970 - Los Angeles: Bruce injures his back while training. The following period of inactivity he starts to document his training methods and his philosophy of Jeet Kune Do. Later after his death, The Tao of Jeet Kune Do is published by his wife.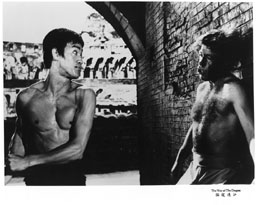 1971 - Hong Kong: Takes a short trip back to Hong Kong to arrange for his mother to live in the U.S..Unknowingly to him, he had become a superstar for The Green Hornet was one of the most popular TV shows in Hong Kong. Later is approached by Raymond Chow, owner of a new production company, and offered the lead role in a new film called The Big Boss. He accepts.
1971- July - Thailand: Filming begins for The Big Boss (released as Fists of Fury in U.S.). Opens in Hong Kong to great reviews and mobs of fans. Proceeds to gross more than $3.5 million in little than three weeks.
1972 - Hong Kong: Fist of Fury (called The Chinese Connection in the U.S.) is released. Grosses more than The Big Boss and further establishes Bruce as a Hong Kong superstar.
1972 - Rome, Italy: Location shots are made for Bruce's third film The Way of the Dragon (later called The Return of the Dragon), which he writes, directs, and stars in. Chuck Norris is Bruce's adversary in the final fight scene. Again, this film surpasses all records set by his previous two films.
1972 - Hong Kong: Bruce begins work on Game of Death and films several fight scenes including Danny Inosanto and Kareem Abdul-Jabbar.
1973 - February - Hong Kong: Filming of Enter the Dragon begins. It is the first-ever production between the U.S. and Hong Kong film industries. Game of Death is never completed. (Later completed after his death using a stand-in for Bruce's un-shot scenes.)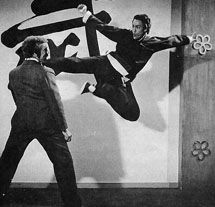 1973 - April - Hong Kong: Filming of Enter the Dragon is completed.
1973 - July 20 - Hong Kong: Bruce Lee dies in Hong Kong. But nobody really knows how he died.Enter the Dragon premieres a month later to much success.
1973 - July 25 - Hong Kong: A funeral ceremony is held for friends and fans in Hong Kong consisting of over 25,000 people. Bruce is dressed in the Chinese outfit he wore in Enter the Dragon.
1973 - July 30 - Seattle: After a smaller second ceremony, Bruce Lee is buried at Lake View Cemetery. His pallbearers included Steve McQueen, James Coburn, Danny Inosanto, Taky Kimura, and his brother, Robert Lee.

We would like to thank the many "Bruce Lee" websites, whose links are listed here and by clicking" on any of the pictures for their information and pictures. Please visit their websites for more specific information and to find additional pictures on this great legend!
Latest News

Read about
The Bruce Lee Education Foundation.
It is a non-profit organization dedicated to bringing you authentic information about Bruce Lee. Click HERE for more info.


Read about Jeff Chinn (a 39 years old San Francisco resident and letter carrier) who has one of the largest Bruce Lee collections in the world.

The San Francisco retrospective includes diary entries, sketches, memorabilia, Lee's philosophical notes in English and Chinese, an homage from his funeral in Hong Kong are part of six collections, including that of Lee's widow, Linda Lee Cadwell. The largest number of items in this particular exhibit are from Yuri Nakamura, a Japanese collector who resides part-time in Los Angeles.

At a 2000 Fund-Raiser Dinner that includes his retrospective, a new documentary, ``Bruce Lee: A Warrior's Journey'' that contains 41 minutes of unseen footage from Lee's last, unfinished film, "The Game of Death" will be shown. For further info, click HERE.

In 2003, thirty years after Bruce Lee died, the first Asian-American to star in a Hollywood film still is considered to be one of the greatest martial artists ever. A new "Bruce Lee Collectors Exhibit 2003: The Beginning of a Legend, the Story of a Man" has opened with items from one of the biggest collectors of Bruce Lee memorabilia in Seattle. (event is sponsored by the Bill and Melinda Gates Foundation, Wells Fargo and Uwajimaya. Exhibit is a fund-raiser for Seattle's InterIm Charity for low income housing)
| | |
| --- | --- |
| BRUCE LEE QUOTE | CATEGORY |
| "When the opponent expand, I contract, When he contracts, I expand, And when there is an opportunity, I do not hit--it hits all by itself." | Opportunity |
| "True refinement seeks simplicity." | Honesty, Men, Truth |
| "To understand this fully, one must transcend from the duality of 'for' and 'against' into one organic unity which is without distinctions." | Miscellaneous |
| "One great cause of failure is lack of concentration." | Excellence, Failure |
| "Not being tense but ready. Not thinking but not dreaming. Not being set but flexible. Liberation from the uneasy sense of confinement. It is being wholly and quietly alive, aware and alert, ready for whatever may come." | Dreams, Life, Men, Military, Monarchy, Reading, Sleeping, War |
| "Knowing is not enough; we must apply. Willing is not enough; we must do." | Knowledge, Wisdom |
| "If you want to do your duty properly, you should do just a little more than that." | Desires, Duty, Wants |
| "If you love life, don't waste time, for time is what life is made up of." | Life, Love, Time |
| "Ideas are the beginning of all achievement." | Accomplishment, Achievement, Beginnings, Goals, Men |
| "Empty your mind, be formless, shapeless--like water. Now you put water into a cup, it becomes the cup, You put water into a bottle, it becomes the bottle, You put it in a teapot, it becomes the teapot. Now water can flow or it can crash! Be water my friend." | Friends |
| "As long as we separate this 'oneness' into two, we won't achieve realization." | Accomplishment, Achievement |
| "A good teacher protects his pupils from his own influence." | Education, Evil, School, Teaching |
| "A goal is not always meant to be reached, it often serves simply as something to aim at." | Goals, Intentions |
| For more info click HERE | |
If you have any questions regarding the content, please contact Asian American Artistry
site design by Asian American Artistry
Copyright © 1996-2010 - Asian American Artistry - All Rights Reserved.
Special thanks to Vision Software